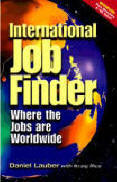 <![if !vml]>

<![endif]>
Where the Jobs are Worldwide
Table of Contents — opens in a new window
Updates
Reviews
Available only in paperback; hard cover edition is sold out.
Click here to order.
Straight talk on finding international jobs
And you get 50% off on slightly imperfect copies of International Job Finder
"This may be the most ambitious undertaking in the area of career publishing."
— Edward Joseph Halloran, Ed Halloran, Careers in International Business
"Strongly recommended… students, recent graduates, and others attracted by
work opportunities in foreign countries will benefit from this new source…
— Library Journal, Oct. 1, 2002
"Terrific book — truly indispensable for international job seekers.…
The book's reach is gratifyingly vast."
— Joyce Lain Kennedy, dean of America's career writers
"…a valuable book for those who want to see the world and get paid for it at the same time."
— Alan Caruba in the June 2002 edition of http://www.booksense.com
If your goal is to live and work abroad, now is the time to spread your wings. Fabulous international jobs and careers in all professions abound across the globe. Finding them used to be hard, but today the Internet bridges the gaps of time and distance to bring hundreds of thousands of international job opportunities to your desktop. But it's a "cyber–jungle" out there with thousands of web sites vying for your attention. The International Job Finder guides you past the hype to over 1,200 of the most effective online — and offline — resources for finding international jobs around the world.
Over 1,200 tools for safely landing a great
international job anywhere in the world
The International Job Finder boldly goes where no other career book has gone before. Not only does it identify the 1,200 most effective online and print resources for finding jobs worldwide, it also tells you everything each resource offers so you can decide for yourself which ones will help you find the international job of your dreams.
| | |
| --- | --- |
| | Discover how to conduct a successful — and safe — online international job–search, even if you have never used the Internet before |
| | Discover how to spot and avoid international job scams and debunk the myths |
| | Learn where to get timely information on danger zones throughout the world |
| | See how to locate all the key resources on each web site so you can quickly and easily use the job databases, resume banks, email "Job Agents," directories of employers, salary surveys, links to other web sites, and other job resources on each Internet site |
| | Find out which print resources will help advance your international career |
Four years in the making, this highly anticipated guide to over 1,200 sources of international job vacancies is your essential guide to finding international jobs and launching an international career. This is where the Internet really shines. We have discovered hundreds of new online sites with databases of international jobs, resume databases that serve the international community, and directories of international employers, in addition to specialty and trade periodicals with ads for international positions, job–matching services, job hotlines, print directories of employers and professionals (for networking purposes), and salary surveys so you are paid what you're worth. The book is 348 pages, with three indexes (Resource Index; Topic Index; Advertiser Index). While supplies last, get 50% off on a slightly imperfect copy.
As a special thank you to our readers, the International Job Finder offers you a free copy of American Jobs Abroad, retail price $65. You pay only $10 for handling and shipping of this five–pound, 860 page tome. We have only 3 copies of this free book left. Available while supplies last. See pages 321 and 348 of the International Job Finder for details.
Click here to order by mail.

For more information, call weekdays between 9 a.m. and 6 p.m. Central time at 708/366-5200.

For an order form you can print mail to us, click here.