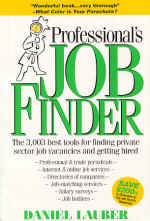 Professional's Job Finder
The 3,003 best tools for finding private sector
job vacancies and getting hired
"Few books contain as many great leads to help job seekers. …The amount of useful and detailed information is staggering." — Career Opportunities News
"Comprehensive guide features more than 3,000 resources that can help you unearth job leads. Carefully organized and easy to use. Includes tips on networking, mass letter–writing, and creative job–search techniques.
A state–of–the–art weapon for your career transition arsenal." – Army Times
Conduct a balanced, savvy job search: Greatly enhance your chances of getting a job in the private sector by conducting a savvy, balanced job search. Discover all the different job search strategies and the kinds of resources needed to implement each of them as reported in the first chapter of the Professional's Job Finder book, published in its entirety. Filled with timely tips to maximize your job hunting results.
Safely using the Internet in your job search: The newest strategies involve using the Internet and bulletin board services to increase your chances of finding a job. But, so far, the hoopla far exceeds the reality. According to Richard Bolles, author of What Color is Your Parachute?, your chances of finding a job via the Internet are only one percent, unless you're in the computer industry where your chances soar to 20 percent. Discover all the different elements to an online job search, including their limitations and how using some resume databases can get you fired from your current job. This is particularly helpful information if you are relatively new to the Internet. This is chapter 2 of the Professional's Job Finder in its entirety.
State of the Month: Get the scoop on the most effective job sources for a different state each month — excerpted from the Professional's Job Finder.
For more information: Over 3,003 sources of job openings are described in the Professional's Job Finder. See the actual Table of Contents for this 520–page book.
This is the only book to offer full information on both online and offline sources of job openings in the world of business, also known as the private sector.

Update Sheet — If you already own the Professional's Job Finder, visit this page to keep current with changes that have occurred in the job sources described in the book. You can also alert us to changes and new job sources you've discovered via email from here.